WHAT IS KABBALAH
AND THE KABBALAH MOTIFS?
Welcome to our site of Kabbalah and
Jewish Jewelry from Israel!
We bring you many beautiful designs of valuable motifs in Jewelry!
KABBALAH JEWELRY – FOR GOOD LUCK, HEALTH AND SUCCESS
WHAT IS KABBALAH?

Kabbalah in Hebrew means "receive" and refers to the receiving of oral teachings that were derived from jewish spiritualism and mysticism.
The Kabbalah Jewelry encapsulates these teachings and protects from the wrath of the evil eye. They are also worn to bring good fortune, health and success into your life.
KABBALAH AND MYSTICISM
The Kabbalah is an ancient form of mysticism that can be traced back to the Torah. It defines the nature of the universe and of mankind as well as the nature and purpose of existence. As the Kabbalah was originally developed from Jewish thought, many teachings were derived from the meaning of events in the Torah, and was passed from generation to generation orally. In the 13th century, Kabbalistic thoughts were first put into writing in a group of books called The Zohar, that contains mystical meanings behind many of the stories in the Torah along with related spiritual teachings.
More recently the Kabbalah has been accepted by many faiths (including celebrities) as being a resource for attracting blessings, good fortune and protection. Because of this, Kabbalah jewelry has become fashionable and popular, and has allowed both men and women to carry a protective amulet with them.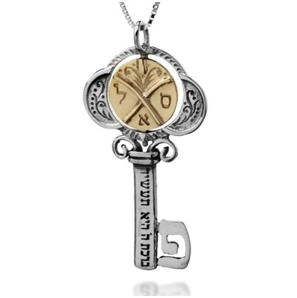 THE VARIOUS SPIRITUAL AND MYSTICAL THEMES
There are various spiritual and mystical themes surrounding the Kabbalah, each having its own special powers for the wearer:
72 holy names of G-d 
According to the Kabbalah, G-d has 72 names each comprising of 3 letters. These symbolize all the different energies that a person undergoes through life. They are derived from 3 verses in the book of Exodus, each containing 72 letters. Putting the first letter of each verse then second letter etc, 72 x 3 letter combinations are produced. Each of these combinations have a different special meaning.
Alef, Lamed, Daled – gives protection against envy, bad spirits and the evil eye and is the basis of the saying "if looks could kill".
Samech, Aleph Lamed – gives the wearer success and prosperity
Mem Hey and Shin – symbolizes healing, health and well being
Kaf, Lamed, and Yud – to help with fertility
Hey, Kuf, Mem – to overcome depression.
PRAYERS & PSALMS
Some of the  Kabbalah jewelry is inscribed with psalms and prayers in Hebrew, providing protection and blessings for the wearer:
The Ana Bekoach prayer – contains 42 words, the first letter of each forms a 42 letter mystical name of G-d. This prayer brings strength and positivity into the wearers life.
Shema – an important prayer – in fact the most important prayer in Judaism is "The Shema". This is found often on Kabbalah jewelry and brings protection to the wearer.
The Tefillat Haderech – the Travelers Prayer is another popular prayer said before the onset of a journey, and is inscribed on Kabbalah jewelry to safeguard the wearer both physically and spiritually.
The Priestly blessing – Birkat HaKohanim – dates back to the book of Numbers (Torah) and asks G-d to watch over the wearer and provide protection .
Another Kabbalistic prayer to provide protection against the Evil Eye is The Ben Porat Yosef Alei Ayin blessing which was bestowed upon Joseph by Jacob before his death. It symbolizes fertility and abundance.
SHAPES AND SYMBOLS
Various shapes and symbols are commonly seen on Kabbalah jewelry:
The Star of David, which is traditionally thought of as being a jewish symbol, is said to remind us that G-d rules over the universe in six directions – north south east west up and down, and wearing it provides protection from evil spirits.
The fish is thought to offer protection against envy and ill will as it lives in water and cannot be penetrated by evil. It is also a symbol for fertility and abundance and offers protection from the evil eye.
The Hamsa – in the shape of an open hand – offers protection against the evil eye.
The Chai – the Hebrew word for "Life" is another popular symbol on Kabbalah Jewelry and symbolizes life, enthusiasm and vigilance.
SEMI-PRECIOUS STONES
Semi-precious stones are common in  Kabbalah jewelry. These have their own symbolism as well:
Turquoise – protects from negative energy and harm, as well as brings good fortune and peace.
Opal – Brings healing, hope and achievement
Onyx – defends against negativity, increases self-confidence.
BUY YOURSELF OR YOUR LOVED ONES
A "CHERISHED FOREVER" KABBALAH AND JEWISH JEWELRY!  VISIT OUT COLLECTION PAGE NOW!